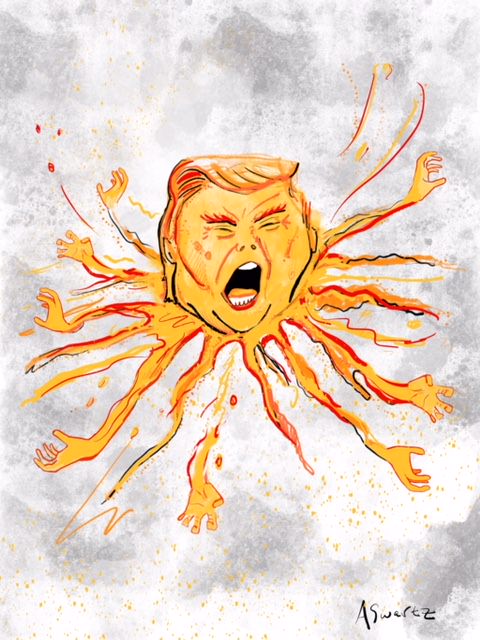 Two Years Later: The Virus of Orange Madness: Eve Ensler on Donald Trump
READ V's prescient 2018 piece published by LeftWord Books in a book entitled Strongmen, collection of essays by four sparkling writers about four such monsters.
From Strongmen editor Vijay Prashad:
When Trump got elected, I decided to edit a book called Strongmen. It would have, I thought, essays about characters such as Erdogan and Modi, and of course Trump. I wanted poets and actors, novelists and magicians to write the essays.
Of course, I asked Eve Ensler to write about Trump. I love her work, her honesty and poetry; but more than anything I was compelled by the fact that long before Trump won the election, she assembled a group to raise awareness about the danger of Trump (& that he could win). Eve Ensler immediately said yes. Her essay on Trump is a triumph. But, with COVID-19, it takes on new resonance. I'm going to share the first paragraph of her essay, which is called 'Trump: A Fable':
'This is a story of what happened in the late time, right before the end time, that later got interrupted and became the new time. In those days, there arrived in the land of violent amnesia and rapacious dreams – a virus. It first became discernible in an oafish, chubby man with orange hair. Some say it was the virus that turned his hair orange. Other claimed his hair was actually the virus. The oafish, chubby man with orange hair goes on to become the most powerful man in the world'.
….and then it goes on….. The theme of the oaf and the virus structures the story, written some years ago. It is a prophetic fable, remarkable in its prescience. I urge you to read it.