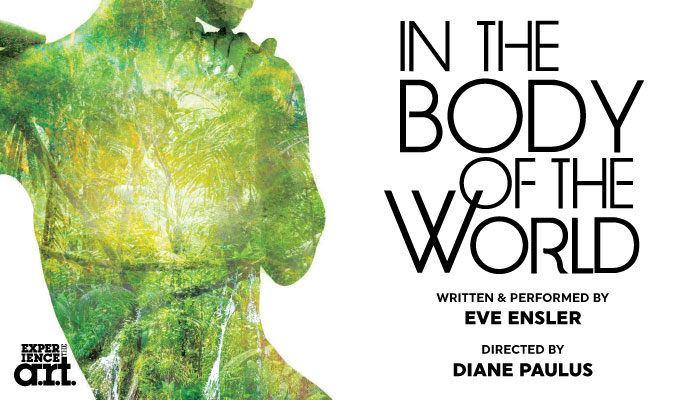 Lots of exciting things are in the works!
STAY TUNED FOR INFORMATION ON FUTURE PERFORMANCES OF IN THE BODY OF THE WORLD.​
"Intimate and Unexpected…Ensler is a poet, whose sense of the rhythm of language infuses her writing with a lyricism that makes it perfect for the stage…Ensler's poetic realization of the importance of connection and community is powerful enough on its own, and her voice and investment in the body of the world are more than enough to bring the audience along on her journey." – The Boston Globe
"Handsomely staged, sensitively directed, and by turns insightful, oblivious, empathetic, myopic, funny and deeply sad." – WBUR
"Powerful…A viscerally moving theatrical memoir…MUST SEE" – Joyce Kulhawik
"Laugh-out-Loud" – Cape Cod Times
"Ensler is Ridiculously Captivating" – Jared Bowen
"A play for humanity" – The Bay State Banner
Eve has adapted her critically acclaimed memoir In the Body of the World for the stage and will have its world premiere at the American Repertory Theatre in Cambridge, Massachusetts starring Ensler, directed by Tony award winner Diane Paulus. In the Body of the World, celebrates the strength and joy that connect a single body to the planet. After being diagnosed with stage III/IV uterine cancer while working in the Congo. This diagnosis erased the boundaries between Ensler's work and her own body. In this raw, humorous, and bold performance, Ensler charts the connections between the personal and the public, inviting and challenging all of us to come back into our bodies, and thus the world.
Read and Listen to what the critics are saying about In the Body of the World
– WGBH