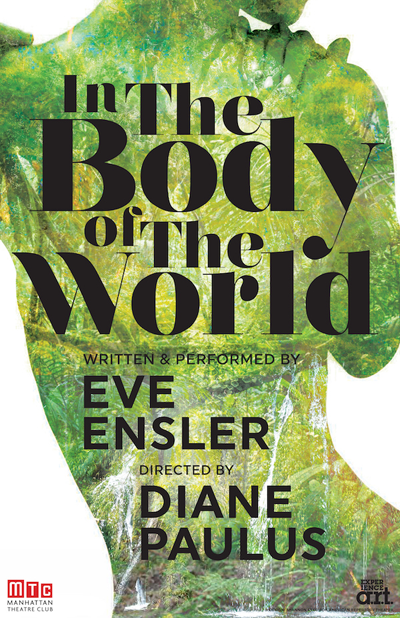 In the Body of the World begins performances January 16 at Manhattan Theatre Club's Stage I in City Center
The Tony Award-winning author, performer and activist Eve Ensler, whose The Vagina Monologues is an international sensation, comes to MTC with a powerful new play based on her critically acclaimed memoir. While working with women suffering from the ravages of war in the Democratic Republic of Congo, Ensler was stunned by a life-threatening diagnosis.  Told with her signature brand of humor, Ensler's personal journey uncovers surprising connections between her body and the earth and how illness can be both transformative and transcendent. Directing this bold, unflinching and inspiring piece is Tony Award winner Diane Paulus (Waitress, Pippin).
In the Body of the World is an American Repertory Theater production.
Post-Show Talk Back Series:
Following several selected performances of In the Body of the World, audience members are invited to attend a post-show discussion led by a curated group of artists, medical professionals, scholars and activists in support of the play. The discussions are free of charge and are open to anyone attending that performance. Schedule is subject to change. Guest speakers will be announced at a later date.
TICKETS: https://www.nycitycenter.org/pdps/in-the-body-of-the-world/
Eve discusses IN THE BODY OF THE WORLD and other topics on "The Tavis Smiley Show" >