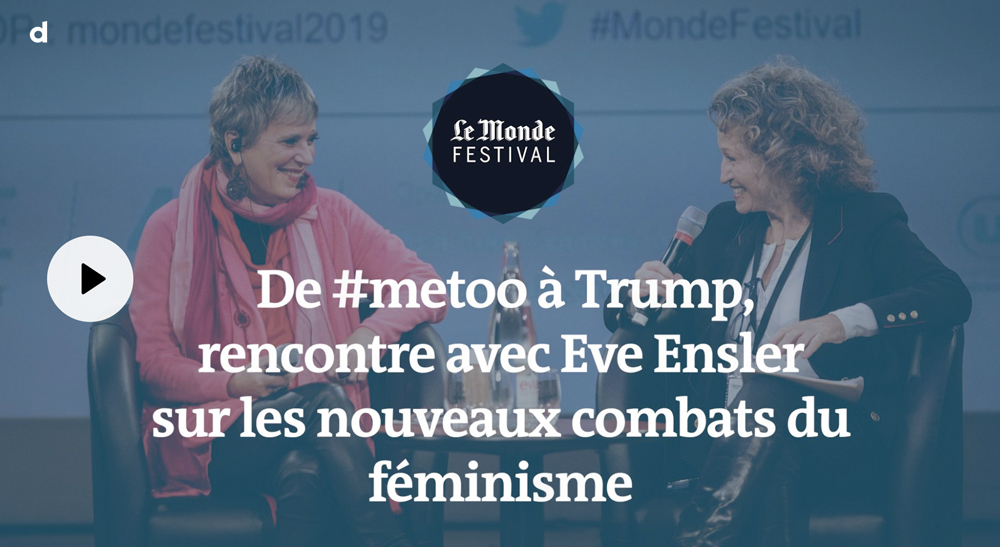 From #metoo to Trump, meeting with feminist Eve Ensler at the Monde Festival (November 2019)
Sa pièce de théâtre, Les Monologues du vagin, écrite en 1996, a fait le tour du monde et symbolise pour plusieurs générations de féministes la lutte des femmes pour se réapproprier leur corps. Depuis, Eve Ensler n'a jamais cessé de dénoncer les violences faites aux femmes. Celle qui a cofondé la Cité de la joie, un centre pour les victimes de viols de guerre en République démocratique du Congo, aux côtés du Prix Nobel de la paix, Denis Mukwege, est aussi, aux Etats-Unis, une opposante affichée à Donald Trump, qu'elle nomme le « prédateur en chef ».
Au Monde Festival, elle a fait part de son regard sur les nouveaux combats du féminisme, de #metoo à Donald Trump. Une rencontre animée par Annick Cojean, journaliste au Monde.