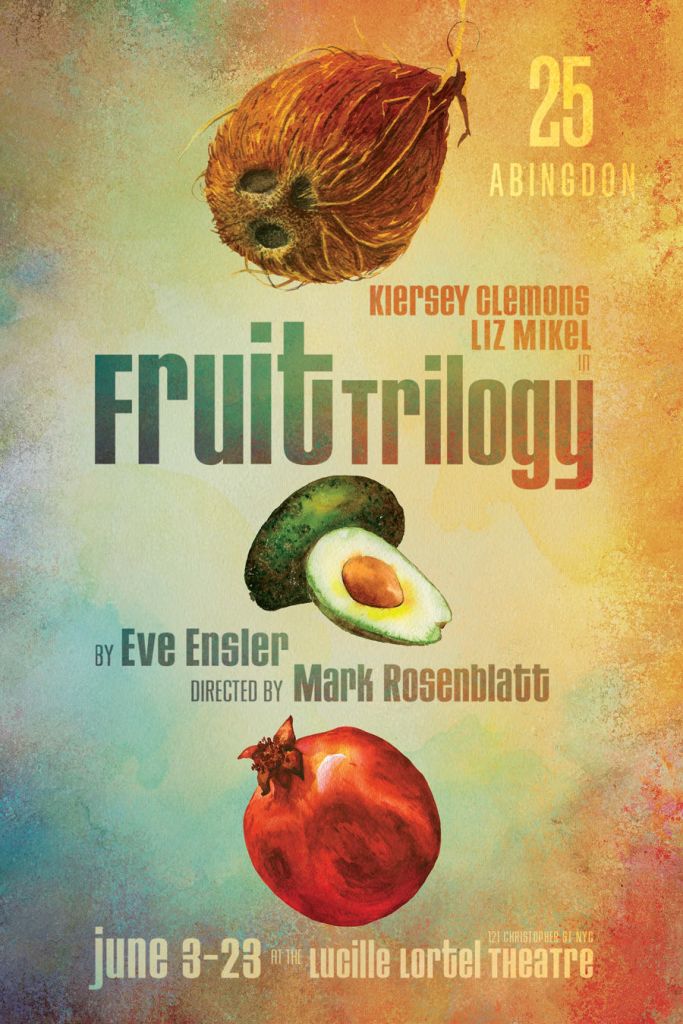 Eve Ensler's Fruit Trilogy makes its New York Premiere!
Coming on the heels of her acclaimed play In the Body of the World, Eve Ensler is about to release her newest work, Fruit Trilogy. Abingdon Theatre presents the New York premiere production, directed by Mark Rosenblatt, featuring Kiersey Clemons (Dope, The Only Boy Living In New York, "Transparent") and Liz Mikel (Lysistrata Jones, "Friday Night Lights").
In this pivotal moment when women around the world have risen up to tell their stories and stand up against violence, Eve Ensler's timely Fruit Trilogy is three short plays that give a voice to defiant, ordinary women: Pomegranate — two women for sale, another morning on the shelf; Avocado — a young woman on her chaotic, shocking journey toward freedom; and Coconut — from the bliss of her bathroom, a woman connects with the one thing she has never fully owned … her body. Woven together with dark humor and heightened theatricality, Fruit Trilogy explores the humanity behind the headlines.
After select performances, V-Day, the global activist movement to end violence against all women and girls founded by Ensler, will host a talkback series. The series will be led by activists, artists, and thinkers; participating in discussions surrounding the play's central themes on the commodification and ownership of women's bodies along with returning to and learning to love the body.
Fruit Trilogy is a Limited Engagement, previews begin Saturday, 2 June at the historic Lucille Lortel Theatre in Greenwich Village and runs through 23 June. The official opening night is 7 June. Tickets are currently on sale at http://abingdontheatre.org/coming-in-june/ (or by calling Ovationtix.com at 212-352-3101).
For questions and group sales please contact tony@vday.org.