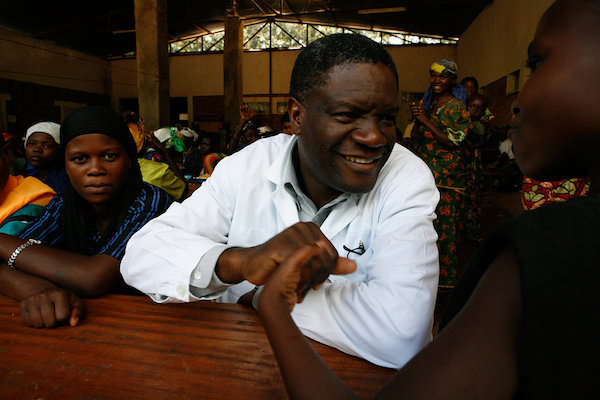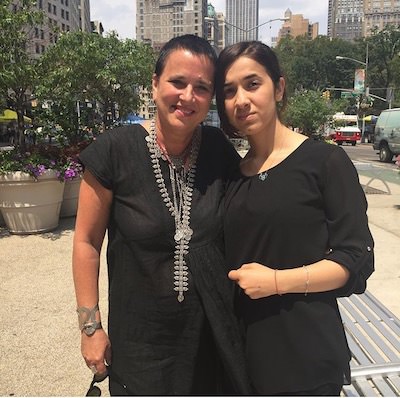 Dr. Denis Mukwege and Nadia Murad win the 2018 Nobel Peace Prize
Lotus Productions, V-Day, One Billion Rising & City of Joy are thrilled to celebrate our brother, our partner, our friend, Dr. Denis Mukwege and our sister-activist Nadia Murad, who today, both received the 2018 Nobel Peace Prize.
Dr. Denis Mukwege is a brilliant and compassionate surgeon, the Director of Panzi Hospital, the President of the Panzi Foundation, a pastor, and an activist. For 20 years, he has worked with the deepest vision and love to heal women's bodies that have been ravaged by rape and war. He has traveled the world in their name, demanding an end to impunity and for international pressure to end the conflict in the Democratic Republic of Congo, making sexual violence in conflict zones an issue that can no longer be denied. Despite having survived an assassination attempt in October of 2012, Dr. Mukwege risks his life daily, continuing to lead Panzi Hospital and perform surgeries, teach comprehensive sexuality education at the City of Joy, and advocate for an end to the conflict in Congo.
A beloved leader, Dr. Mukwege has been a partner of V-Day since 2006, when he and Eve Ensler first met. He was responsible for introducing us to noted human rights activist Christine Schuler Deschryver (Co-founder and Director of the City of Joy and Director of V-Day Congo), who, with the women of Congo, made the City of Joy a reality. The story of their deep history and the bond forged between Dr. Mukwege, Christine and Eve is told in the just released, award winning documentary and Netflix Original film CITY OF JOY. Together, Dr. Mukwege, Christine and Eve are the three co-founders of the revolutionary center for women survivors of gender violence in Congo.
READ Eve's piece just out on Dr. Mukwege: "My Friend Denis Mukwege is a Beacon for All Men to Follow" by Eve Ensler (The Guardian)
Congratulations Nadia Murad! We honor the work of our sister-activist, as she is being recognized for the immense courage she bares, advocating for the end of sexual violence as a weapon of war. By sharing her own story and experiences and calling for accountability, Nadia Murad works to raise awareness and ignite change, in effort to ensure that no woman or girl endures what she did, in the face of imperial, political, and sexual violence and genocide.
READ more about Nadia's work:
"Bureau of Sex Slavery" by Eve Ensler (The Nation)
We Rise With Yazidi Women!