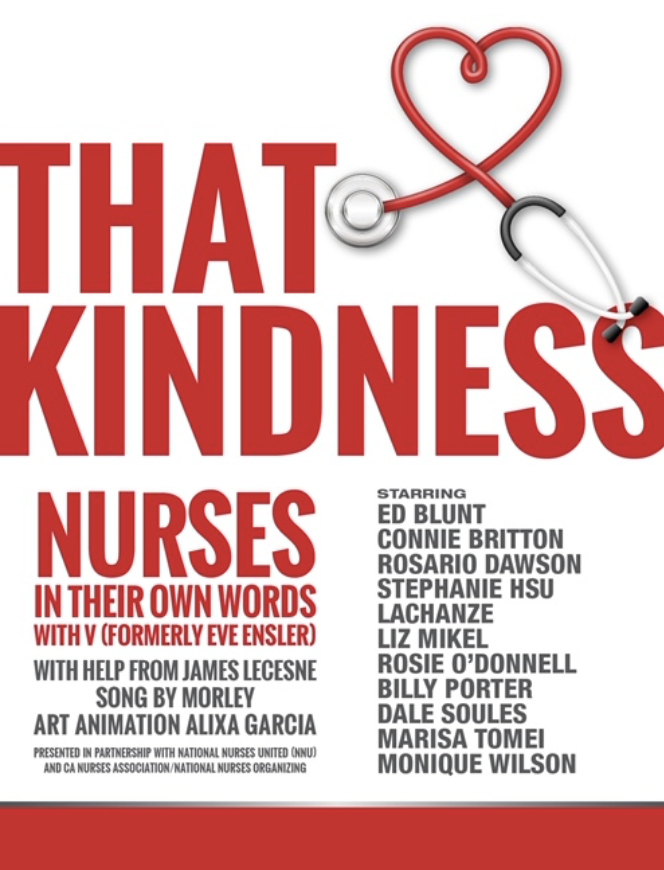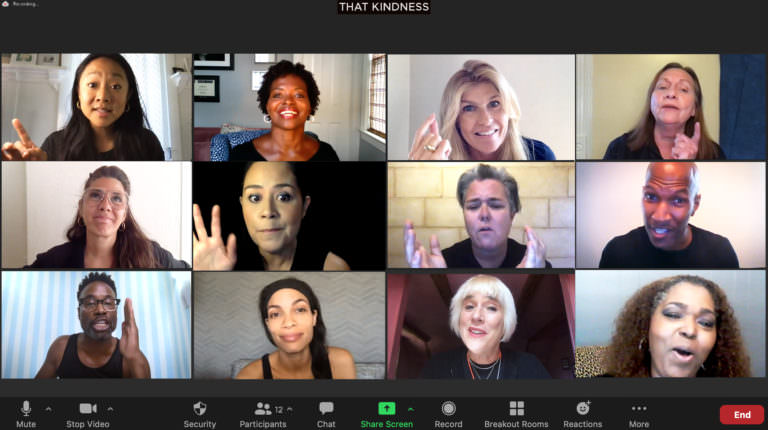 10/15 GOTV Live Stream of THAT KINDNESS: Nurses in their Own Words by BAM & Theaters Across the US
This summer, V spent time conducting interviews, listening to the stories, and experiences of front line nurses. From these stories, and with the help of my friends, James Lecesne, Alixa Garcia, Morley, and National Nurses United, and California Nurses Association (Bonnie Castillo, RN, Executive Director), we created That Kindness: Nurses in their Own Words, a new theatrical offering, a virtual play in support of the California Nurses Association and nurses everywhere.
BAM (Brooklyn Academy of Music) will present this virtual production free of charge in the run-up to the election tied to their Get Out the Vote effort via YouTube Premiere on October 15th at 7 pm eastern, on view for 96 hours. Theaters from all over the country have signed on to present That Kindness, following BAM on YouTube Premiere to support this effort.
In lieu of purchasing a ticket, viewers are encouraged to support those who risk their lives daily to care for their patients during a pandemic by donating to The Brooklyn Hospital Center Covid-19 Fund at any point during the engagement.
"Produced in partnership with National Nurses United and California Nurses Association, That Kindness draws from frank, stirring interviews and personal stories that coalesce into a compelling narrative of kindness, confession, and activism tailored to our times. A preeminent cast brings these stories to life as nurses–who V calls "radical angels of the heart". The cast includes Ed Blunt, Connie Britton, Rosario Dawson, Stephanie Hsu, LaChanze, Liz Mikel, Rosie O'Donnell, Billy Porter, Dale Soules, Marisa Tomei, and Monique Wilson. The production features original music by Morley, whose poignant lyrics capture the essence of the work…"A nation is defined by how its nurses are supplied…how they're treated and if they survive."
Please watch and help spread the word, so the reach of this piece goes far and wide.
Vote care, not cruelty Nov 3.
That Kindness: Nurses in their Own Words
With V (Formerly Eve Ensler)
In Support of The Brooklyn Hospital Center's COVID-19 Fund
With help from James Lecense
Music by Morley
Animation by Alixa Garcia
Oct 15 at 7pm (on view for 96 hours)
Free
Presented in cooperation with Abingdon Theatre, A.C.T. San Francisco, American Repertory Theater, Arena Stage, ArtsEmerson, Berkeley Rep, The Billie Holiday, Center Theater Group, Dallas Theatre Center, Fringe Arts, Manhattan Theater Club, NAATCO, Peak Performances/Montclair State University, The Music Center, Theatre for a New Audience, 2nd Stage, Stanford Live!, Two River Theater, UCLA CAP, and Wilma Theater. List still in formation.
About Brooklyn Hospital Center
Since 1845, The Brooklyn Hospital Center has been dedicated to providing outstanding health services, education and research. Our focus is ensuring optimal patient care through the use of advanced technology, innovative medical and surgical treatments, and staff expertise. Located in the heart of Downtown Brooklyn, TBHC is a clinical affiliate of The Mount Sinai Hospital and an academic affiliate of The Icahn School of Medicine at Mount Sinai. As Brooklyn's first hospital, we are proud to be a part of this incredibly diverse community and to be Keeping Brooklyn Healthy.